Hey there…it's Melissa and Welcome to My Lead Gen Secret Review
Imagine getting 100-200 business opportunity seeker leads every single day looking at ANY product you promote. In this My Lead Gen Secret Review, I will explain how, why, and where these leads come from. I'll explain the pros and cons, If the mailer works or not, and if I recommend it.
If you've been marketing online you know that one of the BIGGEST CHALLENGES for most online marketers is getting traffic and getting leads.
So, if you're still struggling to get traffic, leads, recruits, or buyers, then stick around because this review will cover all of the basics of how to get leads with My Lead Gen Secret even if you're a beginner.
My Lead Gen Secret Video Review
My Lead Gen Secret Overview-Can you make money Sending Emails?
Actually YES and NO…
My Lead Gen Secret is more of a tool…
Let me explain…
I don't think you're going to make money right away with My Lead Gen Secret if you don't have marketing experience, but you can make money over time.
Once you join the system, it automatically gives you 100 leads but it's not likely you'll get a sale right away with those leads.
It does take time…
What Is My Lead Gen Secret
In my opinion, My Lead Gen Secret is an email marketing platform and a legit lead generation tool. It's owned by internet marketer Jim Harmon.
If you're already into network marketing or affiliate marketing and need leads every day that actually convert, then I recommend the MLGS mailer
Here's why:
My Lead Gen Secret will provide you with 100-200 Top Tier leads every single day for ONLY $30 a month. That's 3000 to 6000 leads a month.
These are permission-based leads that are made available for immediate download and you can also reuse them to generate leads for your home-based business or whatever you're promoting.
The leads come from 10 co-registration advertising partners.
Contact information includes date of permission, first name, last name, email address, IP number, city, state, zip code, country, and email lead generation partner.
The SECRET to Making Money with My Lead Gen Secret
It's pretty simple to make money online with My Lead Gen Secret even if you're a complete beginner
Really…
How so?
In order to make money online you need to do these three things:
Find a VEHICLE a.k.a PRODUCT to sell online
Find PEOPLE who will actually buy the product
Get those people's eyeballs to your product website
You should understand the following key points about the My Lead Gen Secret Leads
They've already expressed an interest in wanting to make money online or starting their own home-based business. As I said before, these are business opportunity seeker leads.
You get your own private email submitter with 100-200 opt-in leads added automatically every single day that you can actually send an email and let them know about opportunities or offers that they may be interested in.
You can also build your own list with these leads.
So it's pretty easy to make money online from scratch with the My Lead Gen Secret Mailer if you're consistently sending emails every day.
My Lead Gen Secret Case Study
In this video, I show my results when I promoted Clickbank using the My Lead Gen Secret mailer. Now mind you…
I just started using Clickbank because as an affiliate marketer and network marketer I also promote other products.
As you can see in the video, finding a product to sell, and finding people to look at that product is already covered when you use the My Lead Gen Secret Mailer.
It's really pretty simple…
How to Pick A Product to Sell On Clickbank & Send It by Email Using The My Lead Gen Secret Mailer
If you don't have an account on Clickbank, make sure you sign up for one.
It's actually FREE to join…
It's pretty easy to create an account with Clickbank
Here's a quick tutorial…
If you already know how to create a Clickbank account, then you can skip the video tutorial.
Let's get the bank to how to choose a product to sell on Clickbank and send it via email with the My Lead Gen Secret Mailer…
Go to Clickbank Marketplace
2. Then sort results by popularity…
In order to find a HOT SELLING product on Clickbank to market to the biz opp seeker leads that you get from My Lead Gen Secret, simply keep scrolling down until you see the product or service that's related to making money online.
Once you find the product that you want to sell simply click on the "promote" button to generate a link or "hop link", and copy that link to a notepad.
A lot of these products have an "Affiliate page: with tools and resources that you can use to promote their products.
For instance,
On the Affiliate pages, you'll see "Email Swipes" in case you don't know to write, you can actually copy & paste your favorite email swipe to the same notepad I told you to save the link on.
If you don't have a My Lead Gen Secret account, you simply Sign Up or just Login, go to where it says "Create A Message", follow the instructions and send your email.
It actually takes less than five minutes to do.
How complicated is it to copy and paste?
Unless of course, you want to get creative and add your own flavor…that's even better!
You can also send people to your video (if you have one)
Videos convert A LOT better too.
How Much Does It Cost To Join My Lead Gen Secret?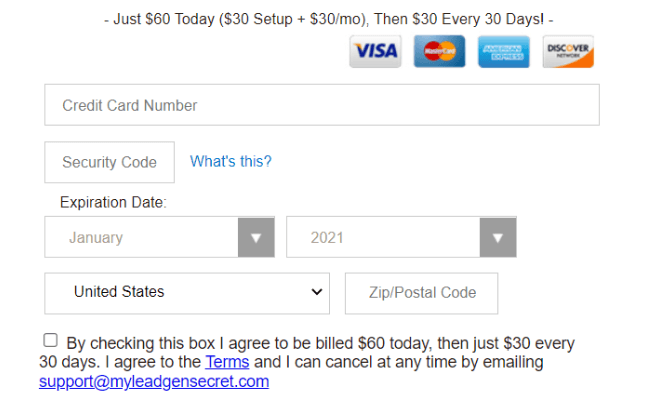 It costs $60 to first join MLGS and then $30 every month after that.
Once you join, you'll immediately get 100 leads every single day which is 3000 leads a month.
So if you calculate each business opportunity lead that you get, it's dirt cheap compared to Facebook ads or even a solo ad.
There are members that create more than one account get more leads and leverage their marketing.
My Lead Gen Secret Compensation Plan and Affiliate Program
There are a couple of ways you can make money using the My Lead Gen Secret Affiliate Program.
Once you join you can actually promote MLGS and make a commission and when you make your first sale, you'll double your leads.
Pretty cool…
I'm going to explain the comp plan exactly as it's explained in the myleadgensecret.com website…
Earn Money as an Affiliate:
You get paid $5/month on personal membership sales to customers who purchase directly from your mlgs affiliate link (Level 1)
You get paid $4/month on your personally sponsored Affiliate's membership sales (Level 2), $3/month on the membership sales of the people they personally sponsor (Level 3), $2/month on levels 4 and $1/month on level 5.Level 1: $5/month
One time commissions are paid out on master swipe purchases at $5, $4, $3, $2, $1 (5 levels deep) on $29.95 pricing and $10, $8, $6, $4 & $2 (5 levels deep) on $59.95 pricing.
Weekly Superstars Bonus Contest
You can earn an UNLIMITED Number of $100 Bonuses Each Week By Simply Referring FIVE New Confirmed Membership Sales in a 7-day Contest Period.
Earn Bonus Leads
This means instead of getting 100 leads every day, you'll get 200 leads a day which multiplies from 3,000 leads a month to 6,000 leads a month.
My Lead Gen Secret Pros and Cons
if I'm going to write My Lead Secret Review, it's my duty and obligation to be completely honest with you, and tell you the list I like and don't like about the program…
Let's face it…
NOTHING is perfect…
Here's what I like:
It's easy to do
It's dirt cheap
The emails in the system are REAL and not bots
The reviews on this product are positive
It's newbie-friendly
There's a good support group and community that answers your questions
You can promote any offer that is relevant to a business opportunity or make money.
It's a legitimate offer and you get your money's worth
Here's what I don't like:
It takes time to actually get a sale (that was my case anyway) but you have to build a big list.
It won't work well if you're promoting something else that doesn't have to do with money-making offers. Example: weight loss
If you're brand new to internet marketing, you will need some skills to convert your leads into sales.
Although the leads that you get in this system are real, they are cold leads which means that they don't know you from a hole in the wall. It's important that when you send emails you find a way to warm up that list, and send them to your own list. In order to do that you need to provide value. For that, you need some internet marketing experience.
My Lead Gen Secret Tutorial – 5 Reasons Why Your Sales Are Dead
If you haven't purchased My Lead Gen Secret yet because you're hesitant if you'll be successful using this mailer, then I highly suggest you watch this tutorial video.
Can you actually make money with My Lead Gen Secret?
I honestly can't answer that…
I've personally made money with it…
But will YOU?
Will you commit you sending emails every single day no matter what the outcome?
Will you be committed to building rapport with this list since I mentioned before that they are cold leads and have to convert to warm?
Will you be committed to changing your belief system and trusting the process?
Will you be more focused on the process instead of the results?
Bottom line…
My Lead Gen System WORKS
It just all depends on how YOU work it.
If you found this My Lead System Review informative, please do me a favor and like, comment, and share this content. If it's now for you, simply share it with someone with that you know this system can benefit
Stay blessed,
Your partner in success,
Melissa Diaz
www.melissaydiaz.com
Whatsapp: 1-787-421-3372 (serious inquiries only)
Work with me
Add me on Facebook
Subscribe to my Youtube Channel
Follow me on Instagram
Follow me on Twitter
.